0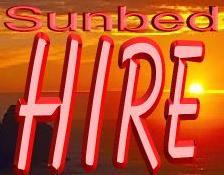 Hire in the comfort and convenience of your home in the knowledge that all our sun beds are fitted with the latest high performance `turbo` tubes which enhance tanning and reduce session times.
Please note our rates include:
* Free delivery, installation, and collection within 8 mile radius of Peterborough.
* A full set of printed instructions and hire agreement.
* Goggles- for the duration of the rental period.
(Prices shown are for immediate delivery and vary during the year)
CALL US ON PETERBOROUGH (01733) 262743 or 07710171844 (9:00am - 9:00pm)
Or to EMAIL US .......simply click on the mail box below